Ring resizing, how does it work?
Product description
In addition to all the other repairs that we carry out on a daily basis, we also resize rings. Because many factors play a role in resizing rings, we always want to see and assess the ring in our workshop beforehand.
All information below is mainly intended to give a general insight into how resizing rings works. Prices are indicative only and are subject to change.
There are of course different ways to make a ring fit for if one uses their imagination. Wrapping a patch or piece of tape around a ring that is too large can make a ring fit, but if you want a permanent change of size, you have to rely on a (jeweler with) goldsmith.
Traditionally, there are 2 common ways to make a ring bigger or smaller. compressing and stretching or sawing and soldering.
Compressing and stretching rings
When stretching or compressing a ring, the ring is pre-heated/annealed to "soften" the material slightly, then the ring is stretched to make it bigger, or pressed into a die to make it slightly smaller. Due to the pressure and tension placed on the ring, this method is only suitable for completely plain (wedding) rings without stones, recesses or other potential weak spots, and only for small size differences. When compressing straight wedding ring models, the shape visibly changes due to stress distortion.  A very wide solid ring can usually be stretched a little more than a thin ring because there is more material. Whether and how far a ring can be stretched therefore depends on the ring and must therefore always be assessed by the goldsmith in our workshop.

Benefits of stretching & compressing:

Relatively fast
Ring remains in one piece (no sawing or soldering required).
Disadvantages of stretching & compressing:
Only suitable for simple wedding rings (without stones or other weak spots).
Chance of profile change (due to stress distortion)
Only for limited size differences

Resizing by sawing and soldering
The most common and most applicable way to permanently make a ring larger or smaller is to lengthen or shorten the length of the band of the ring by sawing and soldering.
If a ring needs to be made smaller, a piece is cut out with 2 saw cuts, usually at the bottom of the ring where it is hardly noticeable. The 2 ends of the band are then bent towards each other and soldered.
Depending on the length of the piece of gold or silver that is removed, a kind of Egg shape is created. The "Egg shape" will then have to be hammered round again if possible.


When ringsize must be increased, instead of removing a piece of gold, a piece will be added. The bigger the size increase, the bigger the piece of gold that must be added. This requires more solder work compared to a size decrease, as both sides of the added piece must be soldered. 
Unfortunately, this method does not work for all rings.
Example: If a fragile ornament or a fragile gemstone is present on the ring, the final "rounding" of the ring is usually not possible and the ring remains (slightly) egg-shaped.   
Resizing becomes especially problematic with rings that have gems in pavé and micro pavé settings. When diamonds or other gemstones are set close together up and share prongs as in the photo below, changing the size often has a direct effect on the settings.
Changing the angle can cause the stones to become loose or even cause them to completely fall out (after some time). In fact, this applies to all setting types where stones are close together and share prongs. We therefore do not resize rings with such pavé or micro pavé settings!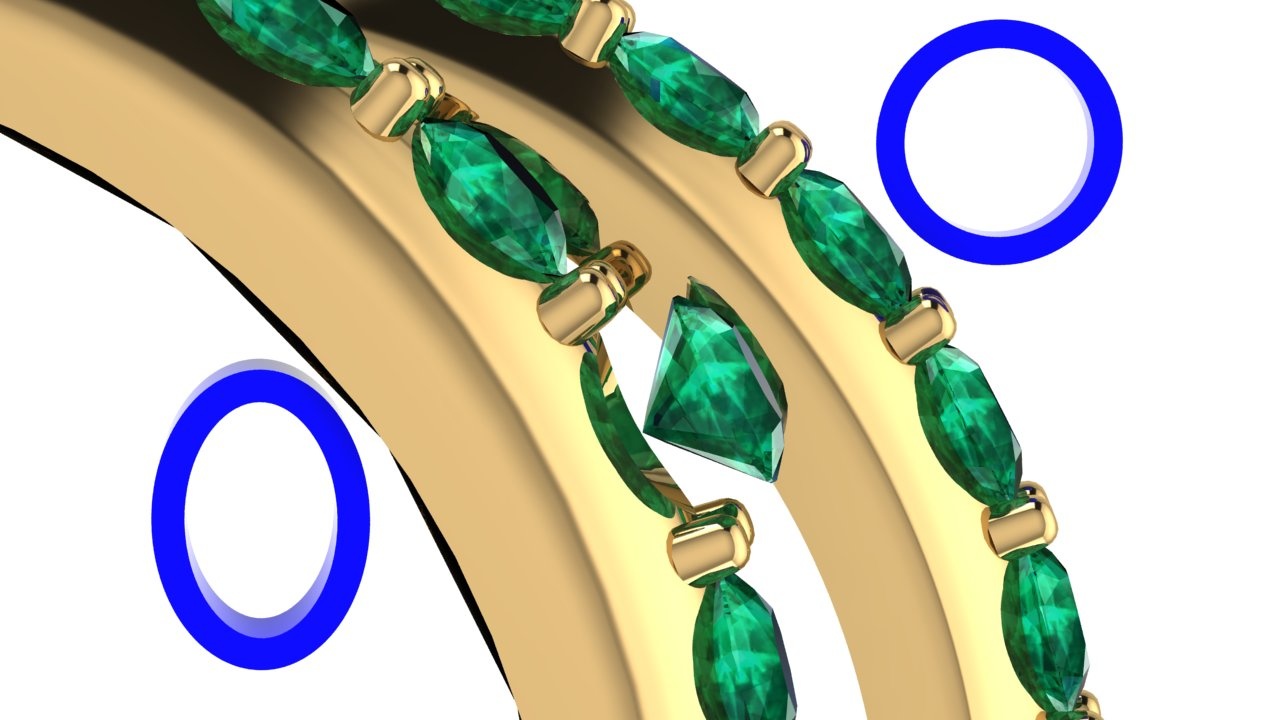 Advantages of sawing & soldering:
More rings can be resized
Also suitable for many rings with precious stones and ornaments
Larger size difference possible
Less chance of stress distortion
Disadvantages of stretching & compressing:
A little more work
Still not suitable for all rings

Rings we do not resize.
Rings with pavé or micro pavé settings. If gemstones are set close together and share prongs, any size change will often have permanent negative consequences for the security of the setting. Often with the loss of stones (over time) as a result.
Rings with rail settings. For the same type of reasons as pavé settings.
When there is tin solder on the ring. Soldering with tin seems like a quick and easy do-it-yourself method to repair jewelry, but it makes real soldering afterwards very difficult, because the old tin soldering negatively affects the gold when heated further.
(Partly) hollow rings. Size change weakens the construction of hollow rings. High risk of cracking when bending hollow rings. A lot of solder flows into cavities and is often simply impossible to solder (properly).
Other possible complications when resizing rings
Specific alloy color. Small color differences are often visible if the color of a certain alloy differs slightly from the color of the solder. (often the case with specific shades of red gold/rose gold).
Different gold contents. A ring made from a less common gold alloy, may need to be soldered with a more common alloy of solder (for example, 18k/.750 solder for a ring of Portuguese gold of 19.2k/0.800. (For some purists, that might be an issue.)
Presence of a coating. A silver ring that is gold plated, or a gold ring with a rhodium layer: (part of) the coating is lost when resizing.
Combined materials. Every material, and even every alloy, has a different melting point or reacts differently. Platinum melts above 1700 degrees Celsius, gold melts just below 1100 degrees and silver below 1000 degrees. If jewelry is composed of different materials, this often brings specific challenges
Rings consisting of seperate components (such as 3-in-1 rings). Some rings consist of several rings ingeniously combined into 1 ring. For example, 3 separate rings that are intertwined and can move freely. This fact can already cause problems in determining an exact size. Accurately resizing after that becomes even more difficult.
Presence of precious engraving or stamps. When a ring is made larger or smaller, an engraving, hallmark or maker's mark on the inside or outside of the ring can become illegible due to solder flowing into it.
Presence of continuous pattern on the ring. A continuous pattern on the ring will be broken/distorted when adding or removing a piece of gold.
Prices are indicative only and are subject to change.
Type reparatie
Basisprijs 
toeslag per maat
toeslag hoger goudgehalte

Thin

gold ring increase ring size (14k gold)

From €35,- incl.1st half size (German) (examp. 17 to 17,5)

From €7,50 per half size extra  

price + aprox. 30% for 18k gold

Thick

gold ring increase ring size (14k gold)

From €50,-

incl.1st half size (German) (examp. 17 to 17,5)
From €10,- per half size extra  
price + aprox. 30% for 18k gold

gold ring sizing down

From €20,-
(usually does not apply)
(usually does not apply)
Silver ring enlarging.
From €20,-
(usually does not apply)
(usually does not apply)
Other options & accurate appraisal
Visit our physical store
-
-
€0,00