Name pandant and name bracelets
In our studio in Eindhoven we sell, create and modify all kinds of gold and silver Personalised Name Jewellery, like font necklaces, newborn bracelets, dogtags, memorial plaques, etc. 
We can engrave gold and silver pendants, tags and plates with needle or with laser, saw by hand or cut with laser, etc. Visit us for (modification of) stock items, or for creating your own design.

You can contact us for, among other things:
-Buying and/or engraving existing pendants or bracelets.
-Making name necklaces or bracelets in gold and silver.
-Sawing, cutting or casting pendants or plates with engraving.
Personalised name necklace
Traditionally, we hand sawed a pre-drawn name or letter combination from silver or gold plate. Although this is still possible, nowadays we can work a little faster and more precisely thanks to the help of a laser engraving/cutting machine. The maximum thickness of gold and silver plate that we cut with our laser is approximately 1mm. We can work with a standard font, or with a custom drawing that you have made yourself. Prices depend on the chosen material (silver or gold, content, thickness, design complexity, etc.). Usually the price starts at approx. 40 Euro for a small silver name necklace pendant with a standard font.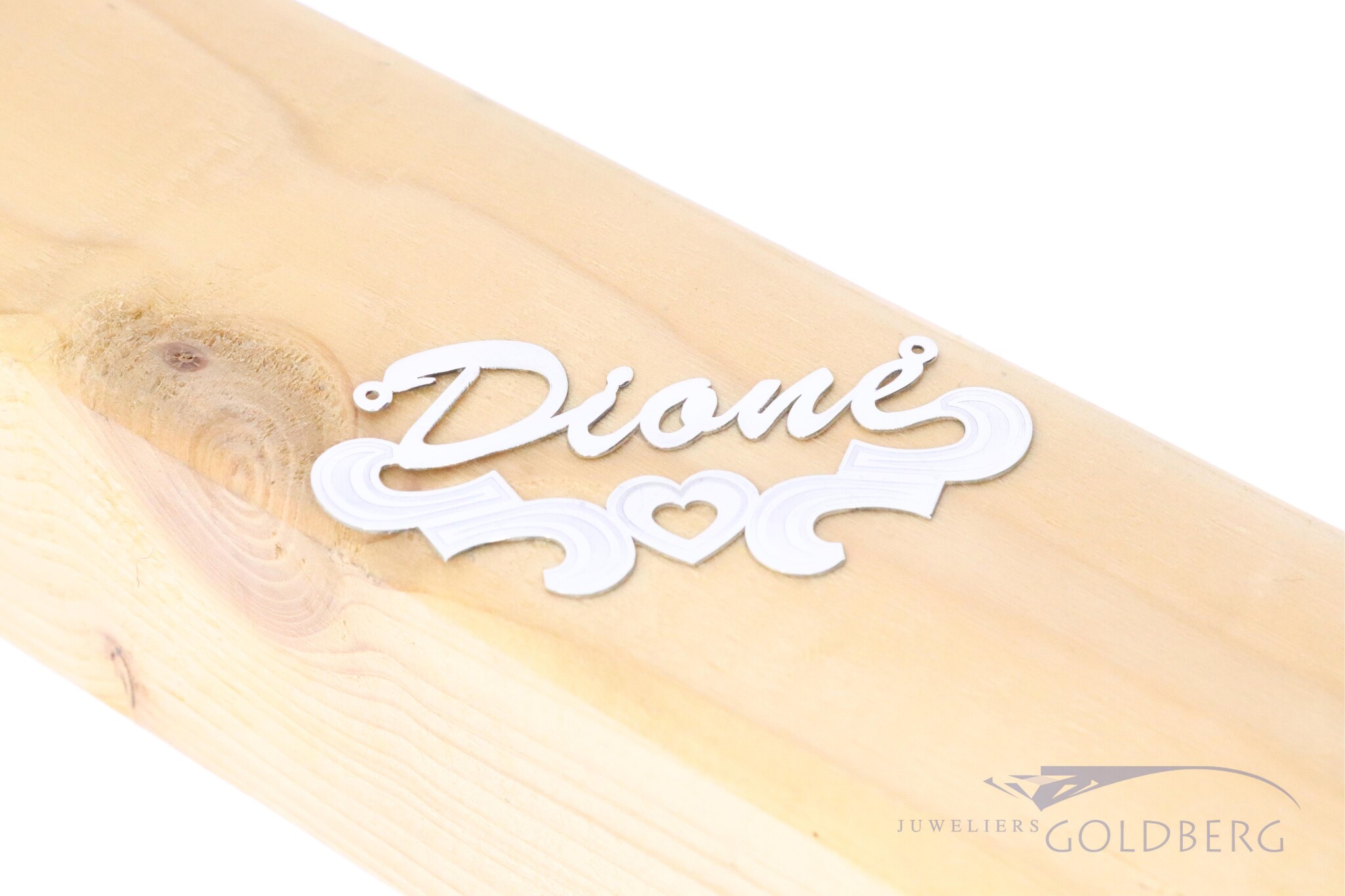 Baby bracelets / Birth bracelets / engravable bar link braceletes
Various baby bracelets / engravable bracelets in stock. You will find many types of engravable braceletes in our collection, such as the traditional baby/ new born engravable bar bracelets, which we can engrave for you. As with almost everything in our collection; most of our stock can NOT be found online on our website due to time constraints, so please visit our store in Eindhoven.

Engraving while you wait? If you buy a baby bracelet or other engraving bracelet from us, we can usually engrave it with text while you wait.

Free engraving with the purchase of baby bracelets/nameplate bracelets or pendants. We sell various baby bracelets or engraving pendants in our store. Engraving text on these is normally included in the purchase price.
Building a unique, personalized bracelet? In addition to engraving existing bracelets, we can also make/assemble "name bracelets" ourselves. For example, we can saw or cut out silver or gold inscripting plates in any shape of your choice and attach various types of links and closures to it to create a unique custom engravable bracelet. We can engrave with text, fingerprint, handwriting, etc. Visit us for a no-obligation, informal conversation about the possibilities.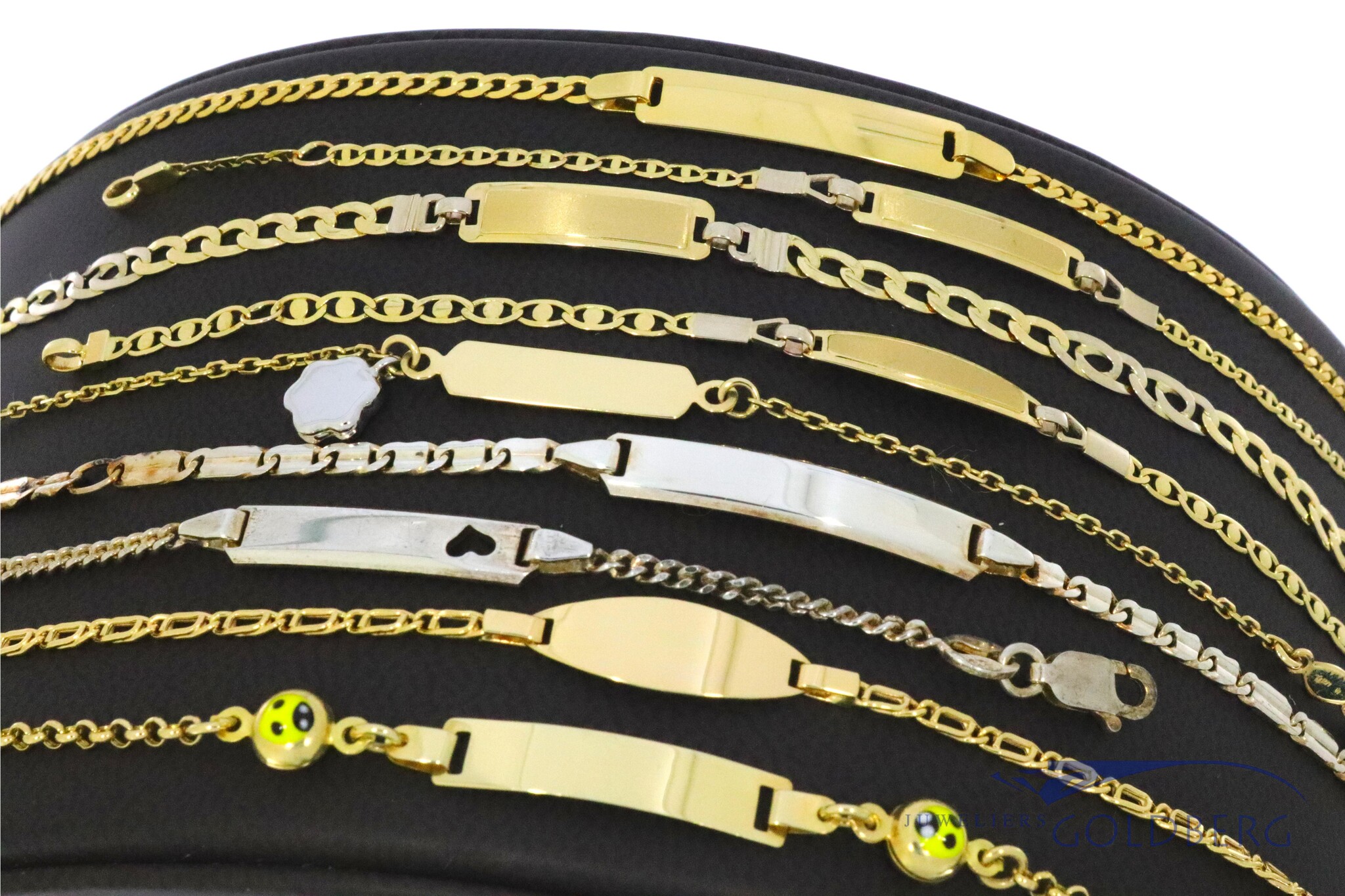 Cutting and engraving gold and silver memorial plaques / memorial plates
We also make custom memorial plaques or plates in silver and gold. We can engrave them with text, engrave symbols, fingerprints, pattterns and logo's in order to create a fitting seal on a small statue, painting frame, or other object that remembers a loved one or an important item or location. The maximum size we work with in our workshop is aprox. 10cm x 10cm (4 inch x 4 inch).